With the implementation of strategic plans such as "smart city", "new infrastructure", "digital cultural tourism" and "One thousand cities and one hundred screens", the display industry has gradually stepped into a more standardized and professional market development road, and also obtained a broader space for development.
With its excellent performance and mature technology, small-spacing LED display is widely used in smart city construction, exhibition, business education and studio.
Create ideas through innovation
Innovation & Creative
After years of development and accumulation, LED packaging technology has a relatively mature technical basis. But any product has a life cycle, and it needs to be constantly iterated.
LED product solutions for RGB display market, no matter the traditional 2121, 1515, 1212, 1010, or now several integrated products, as well as Mini COB module product solutions, all have different product pain points that cannot be solved.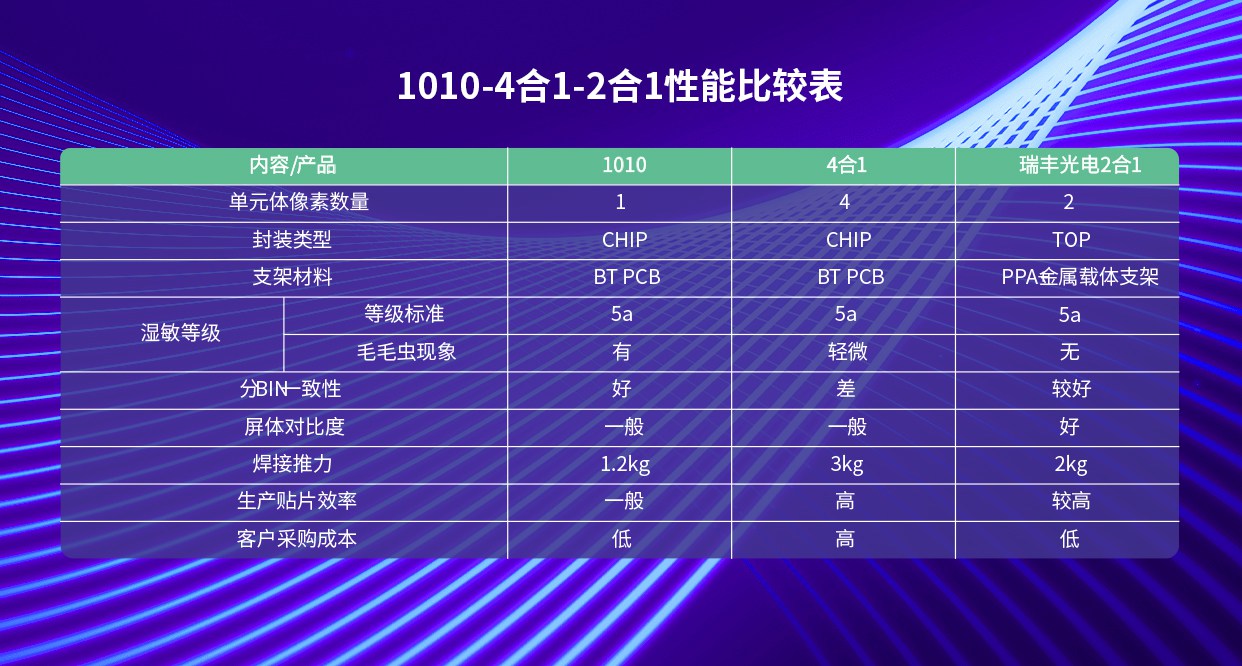 Scientific and technological innovation, technology leadership, product differentiation is the core competitiveness of Refond Optoelectronics survival. Refond Optoelectronics RGB product team through repeated demonstration with customers, in-depth understanding of customer needs, launched the indoor 2-in-1 TOP SMD product solution, to match the P1.25 small spacing indoor display application market demand.
The four big selling points are imaginative
Characteristic & Imagine
100% replaceable
Adopt 2 1010s to seamlessly replace PIN 2 PIN 8PIN design scheme, can seamlessly replace 2 standard 1010 CHIP SMD, the customer does not need to re-PCB Layout, save the client development time and cost; It is 100% fungible;
Adopt TOP LED structure
Relative to CHIP type structure, because the combination of PCB and Molding glue easily forms GAP during a long time of use, resulting in moisture penetration easier to cause caterpillar. TOP LED because of PPA bracket structure protection, moisture resistance is higher;
High cost performance
By adopting the 2-in-1 TOP structure, the overall cost can be reduced continuously and the product competitiveness can be improved. Meanwhile, the efficiency of customers in SMT patch is 1.6 times higher than that of single SMD.
High contrast ratio
Full black package, high contrast throughout the screen.
Win-win cooperation builds the future
Cooperation & Future
Now small spacing has fully entered the subdivision of various commercial display fields, Micro LED, Mini LED, COB, a variety of small spacing technology blooming, to meet the multi-dimensional needs of all kinds of users. In LED display applications below P1.0, Mini/Micro LED technology will be the preferred technology direction.
Refond Optoelectronics will continue to play its own advantages, actively seek technological breakthroughs, to solve the technical and technological difficulties. Deepen the upstream and downstream extension of the industrial chain, actively arrange the resources of the industrial ecosystem, carry out strategic cooperation with manufacturers of different links, promote the maturity of the supply chain and the reduction of manufacturing costs, and promote the construction and development of the Mini/Micro LED display industry.