TCL, the global industry leader in electronics, specifically TVs, has recently launched a new product X11G QD-Mini LED TV equipped with state-of-the-art mini LED technology and is referred to as the first double 5000 TV in the world. This innovative product results from extensive research and development by the brand and its collaboration with seasoned LED suppliers like Refond. Read on to learn more.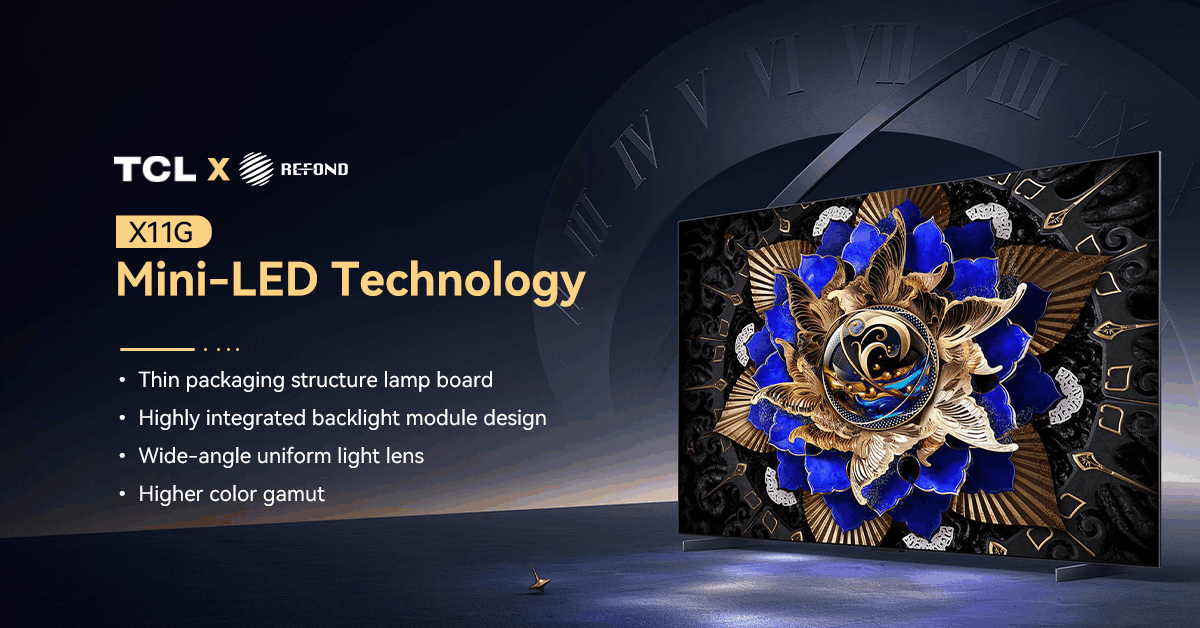 X11G QD-Mini LED TV – Overview
X11G is the latest and most innovative offering from TCL in 2023. Based on mini LED technology, this feature-rich TV has much to offer. As a globally-recognized TV brand, TCL has always focused on manufacturing products that offer superior picture quality, better color gamut, increased contrast, brightness, and more. X11 G QD-Mini LED boasts all these top-of-the-line features and offers much more.
The Application of Mini LED in TCL's TV Display Technology
Mini LED displays offer many key advantages, such as energy efficiency, dynamic HDR display range, high contrast, long service life, ultra-high brightness, and more. X11G QD-Mini LED TV from TCL has been designed to capitalize on this revolutionary technology to allow consumers to enjoy these perks and have a superior TV viewing experience.
Key Features of TCL X11G QD-Mini LED TV
The "Double 5000" X11G QD-Mini LED TV is equipped with a lot of innovative features. QD Mini LED is an advanced version of the mini LED technology. It uses quantum dots to emit light, producing a more accurate, brighter picture while being very energy efficient. The key features of X11G include (but are not limited to) the following:
ü 100-micron-level mini LED optical grade micro-lens and light-emitting chip. Combined, these technologies provide over 5000 nits peak brightness, more accurate colors, better contrast, pixel-level point light control, and more
ü 144Hz high refresh rate, ideal for sports enthusiasts and gamers. The refresh rate can be enhanced to 240Hz with T-HRR Pro technology
ü Vibrant and stunning visuals and immersive viewing experience thanks to QD-mini LED technology and 4K native resolution
ü Upgraded Spirit Control Desktop software for screencasting
ü 4GB + 128GB storage with Wi-Fi 6 support
ü 8-channel Hi-Fi audio system for a premium auditory experience
ü Eye protection, anti-blue light, flicker-free, and other useful display features
ü Available in 75, 85, and 98-inch screen sizes
Refond's Contribution Towards the Development of TCL X11G
Shenzhen-based LED manufacturer and supplier Refond partners with top brands worldwide to facilitate rapid implementation of the latest LED display technologies. Our latest contribution is the advanced mini LED technology introduced in TCL's X11G QD-Mini LED TV.
Refond's Efforts in Developing Advanced Mini LED for TV Backlight
Refond specializes in the mass production of various LED technologies. While we manufacture a wide variety of products, e.g., uniform lighting technology, molding and sealing technology, flip-chip technology, COB technology route, etc., mini LED micro LED is our primary focus of us. We can help TV brands easily implement this technology in their latest models to meet customer expectations. Refond is committed to further empowering mini LED backlight technology development through multiple production lines and quality control systems.
Refond's Role in the Development of the "Double 5000" Mini LED TV
TCL's "double 5000" mini LED TV boasts its top-of-the-line, innovative features thanks to the implementation of TV display technology that Refond provides. The development of this revolutionary display technology requires extensive research and resources. As a seasoned  manufacturer of LED display technology, Refond has dedicated ample R&D resources to accelerate the development of mini LED technology. The result is a product like X11G QD-Mini LED TV that consumers can use for the ultimate immersive viewing experience.
Importance of This Collaboration for the TV Industry
The world's first "double 5000" mini LED TV from TCL is set to redefine the TV industry. Mini LED is already considered the future of displays, and this advanced version of the technology is certainly a game-changer. The collaboration of top LED brands like Refond with global TV brands like TCL means rapid development and release of innovative products that satisfy all the needs of consumers.
Refond is Committed to Developing the Best LED For TV Backlight
Refond is a reliable LED display technology provider committed to developing the best technology in the industry. By introducing innovative products like X11G, which utilizes new QD-Mini LED, TV brands can ensure success and stay competitive by implementing this technology in their displays. Refond is at the forefront of researching and developing new LED display technologies, including mini LED technology, to meet the stringent demands of consumers. TCL's collaboration with Refond for the X11G "double 5000" TV release is an excellent example of a partnership between a reliable display technology provider and a brand. For more information, visit Refond's official website.